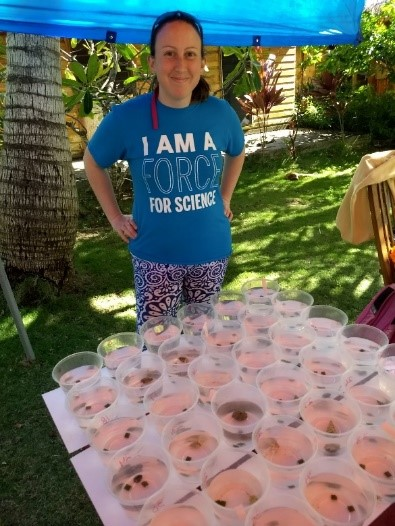 PhD Candidate
School of Chemistry and Biochemistry
Georgia Institute of Technology
Email: amsj3@gatech.edu
MS Chemistry, Rochester Institute of Technology, Rochester, NY, USA
BS Chemistry, Canisius College, Buffalo, NY, USA
After obtaining my BS in chemistry, I worked in a variety of industrial positions where I learned the ins and outs of the manufacturing process for hair care products, how to design and analyze toner particles, and the complex process for developing medical devices. While working full-time, I got the crazy notion to pursue a masters in chemistry part-time. This was also about the time I started to assemble my pack of dogs. My master's research under Dr. Hans Schmitthenner was so enjoyable that I decided to apply for PhD programs which eventually led to my decision to join Dr. Julia Kubanek's lab in the fall of 2015. I've spent my time since joining doing my best not to break multi-million dollar pieces of equipment while hunting down bioactive natural products and occasionally escaping to Fiji. 
Research Interests
I am interested in studying natural products derived from marine organisms that have potential pharmacological activity. I have 3 major projects that I have worked on during the course of my PhD:
Isolating and elucidating the structures of marine natural products with antimalarial, antibiotic, or anthelmintic activity.
Identifying possible mechanisms of action by which the natural products inhibit the disease-causing pathogen. 
Evaluating the ecological role of the natural products produced by marine organisms.  
Chhetri BK, Lavoie S, Sweeney-Jones AM, Mojib N, Raghavan V, Gagaring K, Dale B, McNamara CW, Soapi K, Quave CL, Polavarapu PL, Kubanek J (2019) Peyssonnosides A-B, unusual diterpene glycosides with a sterically encumbered cyclopropane motif: structure elucidation using an integrated spectroscopic and computational workflow. The Journal of Organic Chemistry. Just Accepted Manuscript. DOI: 10.1021/acs.joc.9b00884
Lavoie S, Sweeney-Jones AM, Mojib N, Dale B, Gagaring K, McNamara CW, Quave CL, Soapi K, Kubanek J (2019) Antibacterial oligomeric polyphenols from the green alga Cladophora socialis. The Journal of Organic Chemistry. 84 (9), 5035-5045. DOI: 10.1021/acs.joc.8b03218
Chhetri BB, Lavoie S, Sweeney-Jones AM, Kubanek J (2018) Recent trends in the structural revision of natural products. Natural Product Reports. 35 (6), 514-531. DOI: 10.1039/C8NP00011E