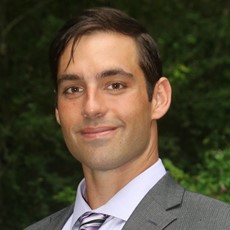 PhD Student
School of Biological Sciences
Georgia Institute of Technology
Email: Bjaco6@gatech.edu
B.S. Biological Science, Florida State University, Tallahassee, FL, USA 
After serving in the United States Navy, I graduated, with honors, from Florida State University with a Bachelor's in Biological Science. As an undergraduate, I participated in the Undergraduate Research Opportunity Program and received the Florida State University IDEA Grant. The FSU IDEA Grant funded my research on the growth rate of Echinaster spinulosus during predation on encrusting ascidians and population dynamics in St. Joseph's Bay. This research, advised by Dr. Janie Wulff, is the first documented instance of this predator-prey interaction and would not have been possible without Dr. Wulff's.
After receiving my bachelor's degree, I served as an Environmental Specialist in the Toxicology Laboratory at the Florida Department of Environmental Protection. The following year, I received the Florida State University Lazzara Scholarship, which facilitated training as an Oyster Hatchery Technician at the FSU Marine Lab. Later that year, I conducted a feasibility study on an experimental mobile oyster hatchery developed by Oyster Seed Holdings. In 2022, I received a National Science Foundation Graduate Research Fellowship – the application for which was inspired by Dr. Kubanek's research.
I am working on a metabolomics project, "The Chemistry of Fear," to identify compounds in oyster predator urine that cause oysters to develop stronger shells. Broadly, I am interested in researching signaling molecules that influence marine population dynamics and have implications for conservation efforts.
Please feel free to reach out to me through email or Linked In.
https://www.linkedin.com/in/benton-jaco-990909126