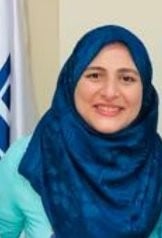 Ghada M. Abdelwahab
Research scientist
School of Biological Sciences
Georgia Institute of Technology
Email: gabdelwahab3@gatech.edu
B.Sc. Pharmaceutical Sciences, Mansoura University, Egypt
Board Certified Pharmacotherapy Specialist, U.S.A
M.S. Clinical Pharmacy, SCU, Cairo, Egypt
M.S. Pharmacognosy, Mansoura University, Egypt

I am really fond of marine environment as it is untapped source of novel natural products that act as a corner stone of drug manufacturing. So, my master degree in pharmacognosy was on isolation and identification of biologically active compounds from marine-derived fungus isolated from the marine tunicate Phallusia nigra. Then, I started my Ph.D. in Egypt on elicitation of marine-derived actinomycetes and fungi under supervision of Prof. Ashraf T. Khalil and Prof. Usama Ramadan Abdelmohsen. The elicitation comes into very potent anti-MRSA results and a first isolation of the
natural bio-valuable compound (bromo-papaverine) which its biosynthesis will be explored. We aim at maximizing the results by chemical complementation through bringing the power of genetics to chemistry. Currently, I am joining Kubanek Lab as a research scientist ,working on the MicroED project which aims at discovering new bioactive natural products using a combination of modern techniques (including NMR, MS, molecular modeling) and a new approach based on microelectron diffraction (microED) in the lab of Hosea Nelson at Caltech in California. Also, metabolomics-based novel chemistry for some uninvestigated marine sample collections and some studies related to chemical ecology will be performed. The proposal is extremely promising with a great aim and it is very interesting to me.
ElNaggar, M.H.; Abdelwahab, G.M.; Kutkat, O.; GabAllah, M.; Ali, M.A.;
El-Metwally, M.E.A.; Sayed, A.M.; Abdelmohsen, U.R.; Khalil, A.T. Aurasperone A Inhibits SARS CoV-2 In Vitro: An Integrated In Vitro and In Silico Study. Mar. Drugs 2022, 20, 179. https://doi.org/10.3390/md20030179.
Abdelwahab, G.M., Mira, A., Cheng, Y.-B., Abdelaziz, T.A., Lahloub, M.F.I., Khalil, A.T., (2021) Acetylcholine esterase inhibitory activity of green synthesized nanosilver by naphthopyrones isolated from marinederived Aspergillus niger. PloS one 16, e0257071. https://doi.org/10.1371/journal.pone.0257071
Abdelwahab, G.M., Abdelaziz, T.A., Lahloub, M.F.I., Khalil, A.T., (2021) Cytotoxic activities of some marine endophytic fungi isolated from Phallusia nigra. World Journal of Pharmaceutical Sciences, 144-149