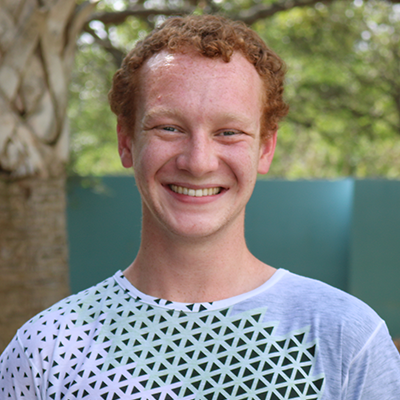 OSE Ph.D. Student
School of Biological Sciences
barrettnh56@gatech.edu
Marine Natural Products and Chemical Ecology
Originally from Gilroy, California, Nolan H. Barrett graduated in 2017 from the College of Charleston, South Carolina, with a BS in Marine Biology and a minor in Chemistry. His research background includes alligator ecotoxicology with the Guillette Jr. Lab at the Hollings Marine Lab and Medical University of South Carolina (MUSC), natural products discovery of microbiomes in the Hamann lab of MUSC, and biosynthesis and biomedical screening of marine natural products in the Wang and Wright Labs at the Harbor Branch Oceanographic Institute at Florida Atlantic University. Nolan actively participates as an onshore science correspondent for expeditions of the National Oceanic and Atmospheric Administration's exploratory vessel R/V Okeanos Explorer leading to his greatest adventure so far, working as the Sample Data Manager aboard the R/V Okeanos Explorer during the "Deep-Sea Symphony: Exploring the Musicians Seamounts" expedition in 2017. He has launched himself to new adventures within the Ocean Science & Engineering PhD program at Georgia Tech. In the lab of Dr. Julia Kubanek, Nolan will research marine natural products, their uses in human medicine, and will focus on the chemical ecology of the organisms from which this chemistry originates. He is currently assisting with the MRSA metabolomics project as well as the maintenance of the phytoplankton cultures. Outside of his research, Nolan enjoys a vast number of hobbies and interests ranging from being an avid home cook and Ultimate Frisbee player to studying martial arts, fiction writing, and bee keeping. 
Wang, G.; Barrett, N. H.; McCarthy, P. J., Draft Genome Sequence of Deep-Sea Alteromonas sp. Strain V450 Isolated from the Marine Sponge Leiodermatium sp. Genome Announcements 2017, 5 (5).
Xu, D.; Han, L.; Li, C.; Cao, Q.; Zhu, D.; Barrett, N. H.; Harmody, D.; Chen, J.; Zhu, H.; McCarthy, P. J.; Sun, X.; Wang, G., Bioprospecting Deep-Sea Actinobacteria for Novel Anti-infective Natural Products. Frontiers in Microbiology 2018, 9 (787).
Hamann, M. T.; Wang, X.; Hanna, G.; Barrett, N. H., Marine Natural Products as a Source of Potential Pancreatic Cancer Therapeutics. Journal of Oncology and Cancer Research 2019, 3, 1-13